Laura Bliss Morris
Tuesday, September 10, 2019
Pique your teen reader's interest by recommending these fresh takes on eight of the most popular required reading titles from your glory days.📚.
1. If you enjoyed...HUCKLEBERRY FINN
The Journey of Little Charlie
Christopher Paul Curtis
Recommended by Morgan Ryan, Sandhills
Twelve-year-old Charlie is down on his luck: His sharecropper father just died and Cap'n Buck -- the most fearsome man in Possum Moan, South Carolina -- has come to collect a debt.
Fearing for his life, Charlie strikes a deal with Cap'n Buck and agrees to track down some folks accused of stealing from the cap'n and his boss. It's not too bad of a bargain for Charlie... until he comes face-to-face with the fugitives and discovers their true identities. Torn between his guilty conscience and his survival instinct, Charlie needs to figure out his next move -- and soon. It's only a matter of time before Cap'n Buck catches on.  
---
2. If you enjoyed...THE SCARLET LETTER
Allegedly
By Tiffany D. Jackson
Recommended by Jocelyn Pettigrew, Programs & Partnerships
Orange Is the New Black meets Walter Dean Myer's Monster in this gritty, twisty, and haunting debut by Tiffany D. Jackson about a girl convicted of murder seeking the truth while surviving life in a group home.  
The Boyfriend List
By E. Lockhart
Recommended by Ashley Silvera, Edgewood
"...A wonderful comic exploration of the maddening (but hilarious) world of mothers and fathers, the gut-wrenching politics (and excitement) of multiple crushes, and the complications (and kinship) of friendship. Ruby Oliver is a winning girl (even if she doesn't realize it) we'd all befriend in a heartbeat (as long as she doesn't have her eyes on our guy)."—Jill A. Davis, author of Girls' Poker Night  
---
3. If you enjoyed...MACBETH
Akata Witch
Nnedi Okorafor
Recommended by Jocelyn Pettigrew, Programs & Partnerships
Affectionately dubbed "the Nigerian Harry Potter," Akata Witch weaves together a heart-pounding tale of magic, mystery, and finding one's place in the world. Perfect for fans of Children of Blood and Bone!  
Enter Three Witches
Caroline Cooney
Recommended by Ashley Silvera, Edgewood
Lady Mary is a ward of Lord and Lady Macbeth whose life is forever changed when her father, Lord Cawdor, betrays the Scottish king--and is hanged as a traitor. In an instant, Mary has lost both her father and future. Now she's trapped in a castle with a power-hungry couple who will do anything to get what they want--and are willing to crush anyone in their way.
As the murderous events of Shakespeare's play unfold around her, Mary must struggle to survive--and do what she can to prevent more deaths. But can a lone girl save lives when a legion of Scottish lords cannot?  
Bruja Born
Zoraida Cordova
Recommended by Jocelyn Pettigrew, Programs & Partnerships
Lula Mortiz feels like an outsider. Her sister's newfound Encantrix powers have wounded her in ways that Lula's bruja healing powers can't fix, and she longs for the comfort her family once brought her. Thank the Deos for Maks, her sweet, steady boyfriend who sees the beauty within her and brings light to her life.Then a bus crash turns Lula's world upside down. Her classmates are all dead, including Maks. But Lula was born to heal, to fix. She can bring Maks back, even if it means seeking help from her sisters and defying Death herself. But magic that defies the laws of the deos is dangerous. Unpredictable. And when the dust settles, Maks isn't the only one who's been brought back...  
---
4. If you enjoyed...THE CRUCIBLE
Children of Blood and Bone
Tomi Adeyemi
Recommended by Jocelyn Pettigrew, Programs & Partnerships
Seventeen-year-old Zélie, her older brother Tzain, and rogue princess Amari fight to restore magic to the land and activate a new generation of magi, but they are ruthlessly pursued by the crown prince, who believes the return of magic will mean the end of the monarchy.  
The Bone Witch
Rin Chupeco
Recommended by Morgan Ryan, Sandhills
Tea's gift for death magic means that she is a bone witch, a title that makes her feared and ostracized by her community, but when an older bone witch trains her to become an asha--one who can wield elemental magic--Tea will have to overcome her obstacles and make a powerful choice in the face of danger as dark forces approach.  
The Witch of Blackbird Pond
Elizabeth George Speare
Recommended by Morgan Ryan, Sandhills
In 1687 in Connecticut, Kit Tyler, feeling out of place in the Puritan household of her aunt, befriends an old woman considered a witch by the community and suddenly finds herself standing trial for witchcraft.   
---
5. If you enjoyed...LORD OF THE FLIES
The Explorer
Katherine Rundell
Recommended by Morgan Ryan, Sandhills
Fred, Con, Lila, and Max are on their way back to England from Manaus when the plane they're on crashes and the pilot dies upon landing. For days they survive alone, until Fred finds a map that leads them to a ruined city, and to a secret.  
The Maze Runner
James Dashner
Recommended by Brittany Crowley, Teen Center
When Thomas wakes up in the lift, the only thing he can remember is his name. He's surrounded by strangers—boys whose memories are also gone. Outside the towering stone walls that surround them is a limitless, ever-changing maze. It's the only way out—and no one's ever made it through alive.
Then a girl arrives. The first girl ever. And the message she delivers is terrifying: Remember. Survive. Run.  
The Lost Cipher
Michael Oechsle
Recommended by Morgan Ryan, Sandhills
Lucas has just lost his father in Afghanistan and to help him cope, his grandmother sends him to Camp Kawani. While there, he learns of the lost treasure of Thomas Jefferson Beale, a local legend of a hoard of gold buried in the mountains 200 years ago. The location is encrypted in a set of codes no one has ever been able to decipher. Lucas becomes obsessed with finding the gold to save his home and leads his newfound friends into a dangerous mission into the wilderness to uncover it.  
---
6. If you enjoyed...TO KILL A MOCKING BIRD
Ghost Boys
Jewell Parker Rhodes
Recommended by Heather McCue, Children's Room
After seventh-grader Jerome is shot by a white police officer, he observes the aftermath of his death and meets the ghosts of other fallen black boys including historical figure Emmett Till"-- Provided by publisher.  
Jasper Jones
Craig Silvey
Recommended by Heather McCue, Children's Room
In small-town Australia, teens Jasper and Charlie form an unlikely friendship when one asks the other to help him cover up a murder until they can prove who is responsible.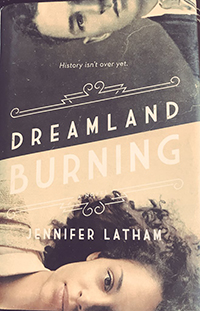 Dreamland Burning
Jennifer Latham
Recommended by Heather McCue, Children's Room
When Rowan finds a skeleton on her family's property, investigating the brutal, century-old murder leads to painful discoveries about the past. Alternating chapters tell the story of William, another teen grappling with the racial firestorm leading up to the 1921 Tulsa race riot, providing some clues to the mystery.  
---
7. If you enjoyed...PRIDE AND PREJUDICE
Pride
Ibi Zoboi
Recommended by Brittany Crowley, Teen Center
In a timely update of Jane Austen's Pride and Prejudice, critically acclaimed author Ibi Zoboi skillfully balances cultural identity, class, and gentrification against the heady magic of first love in her vibrant reimagining of this beloved classic.
Prom & Prejudice
Elizabeth Eulberg
Recommended by Ashley Silvera, Edgewood
For Lizzie Bennett, a music scholarship student at Connecticut's exclusive, girls-only Longbourn Academy, the furor over prom is senseless, but even more puzzling is her attraction to the pompous Will Darcy, best friend of her roommate's boyfriend.
---
8. If you enjoyed...1984
Watched
Marina Tamar Budhos
Recommended by Jocelyn Pettigrew, Programs & Partnerships
Far from the "model teen," Naeem moves fast to outrun the eyes of his hardworking Bangladeshi parents, their gossipy neighbors, and the other forms of surveillance in his immigrant neighborhood in Queens, but when his mistakes catch up with him and the police offer a dark deal, will Naeem be a hero or a traitor?
Never Let Me Go
Kazuo Ishiguro
Recommended by Morgan Ryan, Sandhills
A tale of deceptive simplicity, Never Let Me Go slowly reveals an extraordinary emotional depth and resonance-and takes its place among Kazuo Ishiguro's finest work.
This content originally appeared in issue 003 of the library's Access magazine. For more ways to learn, create and share within our vibrant community, visit RichlandLibrary.com/Access.