Richland Library
Thursday, March 26, 2020
Children's authors and illustrators are winning over the hearts of kids and parents across the country with their daily doses of delight. From readings to art clubs to book-based activities, we've compiled a list of some of our favorites and where you can stream, watch or simply join in on the fun. 
---
Mac Barnett 
Daily Readings
3 p.m. ET
www.instagram.com/macbarnett/
"Hey, tomorrow morning (3/15) at noon Pacific I'm going to read my first picture book, Billy Twitters and His Blue Whale Problem, out loud right here on Instagram Live. If you can't make it, I think it stays up for 24 hours—I don't know, I've never used Instagram Live before, we will figure this out together. Then on Monday at noon I'm going to read my second picture book. I'll keep going for a while, probably. I've got about a month's worth of picture books, and if we run out I might read some chapter books or something. Who knows? See you tomorrow, maybe!"
---
Grace Lin
Readings + Podcast
Tuesdays and Thursdays / Monday, Wednesdays and Fridays
https://www.youtube.com/user/gracepacy
https://www.kidsaskauthors.com/
"I will be post videos on Tues and Thurs. On Mon, Wed and Fri, I will be post episodes of the Kids Ask Authors podcast-a guest author and I answer a kid question! Kids can submit their questions, bk reviews, poems, or jokes! Fun way to for them to share!"
---
Carson Ellis    
Art Club    
Weekdays    
www.instagram.com/carsonellis/ 
"Hello! I'll be posting art assignments here every weekday morning when I can. They'll be designed for kids and grownups alike. If you want to share them, you can use the hashtag #quarantineartclub. I'll also provide individual hashtags for each exercise so we can see each other's work."
---
Kate Messner    
Author and Illustrator Read Alouds    
On Demand    
www.katemessner.com/read-wonder-and-learn-favorite-authors-illustrators-share-resources-for-learning-anywhere-spring-2020/
Here "you'll find a growing collection of resources that include everything from first-chapter and picture book read-alouds (all shared with permission!) to drawing and writing mini-lessons. Be sure to check back often, as new resources will be added every day."
---
Oliver Jeffers
Reading    
2 p.m. Daily    
www.instagram.com/oliverjeffers
"For all you folks stuck at home in the coming weeks. Starting on Monday, at 6pm GMT / 2pm EST / 11am PST I will be reading one of my books every weekday, and talking about some of the things that went into making it. We are all at home, but none of us are alone. Let's be bored together."
---
Dan Gutman    
Reading of Miss Blake is a Flake    
2 p.m. Daily    
www.facebook.com/pages/category/Author/Dan-Gutman-60020139122/
"These are weird times because of the coronavirus, so we gotta try weird stuff. I'll be reading from my new book "Miss Blake Is a Flake!" I've never done FB Live before and I'm nervous. I hope it works out. After it's over, let me know what you think. And spread the word, not the virus!"
---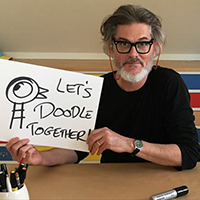 Mo Willems    
Lunch Doodles    
1 p.m. Daily    
www.facebook.com/events/2544781839094130/
"Mo Willems invites YOU into his studio every day for his LUNCH DOODLE. Learners worldwide can draw, doodle and explore new ways of writing by visiting Mo's studio virtually once a day for the next few weeks. Grab some paper and pencils, pens, or crayons and join Mo to explore ways of writing and making together.  Viewers can see each weekday's new video at 1:00 p.m. ET."
---
Jarret J. Krosoczka    
Drawing Master Class    
2 p.m. Daily    
www.studiojjk.com
"You won't need anything fancy. Some paper, a pencil. Maybe a marker. As we go along—and I plan to keep this going as long as we need—I may work in color lessons. (Color pencils, watercolor.) And definitely incorporating writing lessons. And will read aloud some too. I'll also offer art games that grown-ups and kids could play together. And remember—you can rewatch later so you can replay and pause as much as you'd like!"
---
Denise Fleming    
Book Based Activities    
On Demand    
www.denisefleming.com/pages/book-activities/activities-main.html
Lots of book based activities including outdoor exploration, matching games, papermaking and more.  
---
S
toryline Online: Various Actors    
Readings    
On Demand    
www.storylineonline.net/
"With school closures around the country due to #coronavirus, please use our FREE children's literacy resource featuring the world's best storytellers reading books aloud. Each video includes an activity guide with lessons for K-5 students to do at home."
We will continue to update this list as more authors and illustrators announce events. Check back often for updates.