Helene F.
Monday, April 20
This blog will feature five graphic novels available through Hoopla, which you can access for free using your library card.  The five graphic novels follow new and old characters from some movies and TV shows that went from the big and small screen to graphic novels, with new story lines.
There was a time when books and comic books were made into movies and tv shows.  Now the reverse is happening as well.  Various movies like The Labyrinth by Jim Henson and The Lost Boys were created for the big screen. Now comic/manga/graphic novels have been written and illustrated to expand those worlds.  In this time when people are not able to check out new movie or TV shows in DVD/Blu-ray format, electronically accessing the graphic novels with new materials with your library card and pin is the next best thing.  Hoopla has a lot of electronic graphic novels available to read.  You can check out ten titles each month.  Some of the titles below allow you to check out a mega volume containing more than one issue of the series. 
In 2006, fans were granted a fresh look into Toby and Sarah's life after Labyrinth in the four part Manga titled Return to Labyrinth.  We are also able to see a fresh telling of Labyrinth from a prequel standpoint.  Through Hoopla we can check out, using our library card number and pin, ten titles each month to read.  The title of the new way into the Labyrinth world is Jim Henson's Labyrinth: Coronation written by Simon Spurrier and illustrated by Daniel Bayliss.  There are 12 issues in all.  You can borrow the first four volumes in one mega issue, to only use one of the ten borrows.  Through these pages you are transported back into the Labyrinth world when the baby Toby was held by the Goblin King, Gareth.  You also see the story of Gareth as a baby and the person who tried to save him from becoming the Goblin King.  We are again asked, "What is real", and "What is a distraction"?  And remember, creatures and situations "are not always as they seem." Rated E for everyone.
Star Trek, one of the first tv shows about space exploration, also has many versions on the small screen and big screen for each new generation.  From Star Trek: The Next Generation to Star Trek: Voyager and now Discovery and Picard, we are treated with continuing story lines of old friends, and new ones.  In Hoopla there are graphic novels for each version of Star Trek.  The graphic novel I chose to read is called Star Trek: The Q conflict.  The authors are Scott and David Tipton.  The illustrator is David Messina. In this graphic novel you will be brought into a "war" as only Q can make them.  He brings together Captain Kirk, Picard, Sisko and Janeway, with their individual crews.  Let the fun, or headaches begin. Rated T for teen and up.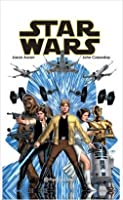 Another series that started as a movie was Star Wars.  Hoopla has many versions of the graphic novel spin offs of the Star Wars Universe. One that I am reading now takes place right after Star Wars A New Hope.  The series, called Sar Wars Skywalker Strikes, started in 2015.   Written by Jason Aaron and Illustrated by John Cassaday, the series presents the story of our rebel heroes trying to steal from the Empire.  Our heroes find the truth behind who "works" in the Empire's weapons factory, only to have to deal with Storm Troopers and Darth Vader.   Rated for T for teen and up.
Battlestar Galactica was another space opera that I enjoyed watching in the late 70s and beyond.  Battlestar Galactica has gone back and forth between TV and graphic novels and was remade for a new generation as a TV show on the SYFY channel from 2005 to 2009.  Through Hoopla you can read graphic novels following the original TV show and beyond, as well as follow the newer Battlestar Galactica which was to take place 25 years after the first show.  The new show reimagined who Starbuck was, as well as what the new cylons look like and what their main goal is in attacking the humans on their twelve planets.  There is even a graphic novel in which the 1978 Battlestar Galactica group battles the newer 2005 Battlestar Galactica to answer the question of which group would win. The title is Battlestar Galactica vs Battlestar Galactica.  These are all free with your library card number and pin! Rated T for teen and up.
Another Jim Henson movie that became a graphic novel is The Dark Crystal. Almost a year ago, Netflix released a new season based on The Dark Crystal plot called The Dark Crystal: Age of Resistance. In Hoopla there is a free graphic novel prequel to the Netflix series.  Also called The Dark Crystal: Age of Resistance, this graphic novel follows new characters who must go on a quest to find that which can save the gelflings and Thra.  Written by Nicole Andelfinger, and illustrated by Matias Basia, each volume is an individual check out.  There is another Dark Crystal graphic novel series in hoopla.  It is called Jim Henson's Beneath the Dark Crystal.  You can check out the first eight issues in one large volume.  Beneath the Dark Crystal takes place after the movie.  The crystal is healed, but with all new beginnings, new gelflings must find out how to help others. Both are rated E for everyone.
Related Blog Posts