Create Your Own Macramé Hemp Bracelet
Taelor J.
Monday, June 29
As a kid I loved making macramé jewelry! I spent hours making bracelets, necklaces and anklets.
Now, as a parent trying to keep my kids busy with at home activities that require a minimal amount of materials, does not create a huge a mess and can been done somewhat independently has been a challenge. Teaching my kids macramé has been an inexpensive way to help solve that problem. They have absolutely loved making different pieces to send out to friends and family. 
What you need to start:
•    Hemp cord 
•    Beads (with at least a 2mm opening)
•    Tape
•    Scissors 
•    Optional: a clipboard to help hold your bracelet in place while you work
Directions:
Start by cutting the hemp cord into one 20 inch piece and one 70 inch piece. Fold both pieces in half.
Tie a knot with both cords to create a loop large enough for the bead you would like to go on the end as your clasp bead.
---
There will be four cords hanging. The two shorter cords (anchor chords) should be in the center and the two longer cords (tying cords) on the outside. 
Pass the left tying cord over the anchor cords. Pass the right tying cord over the top of the left tying cord.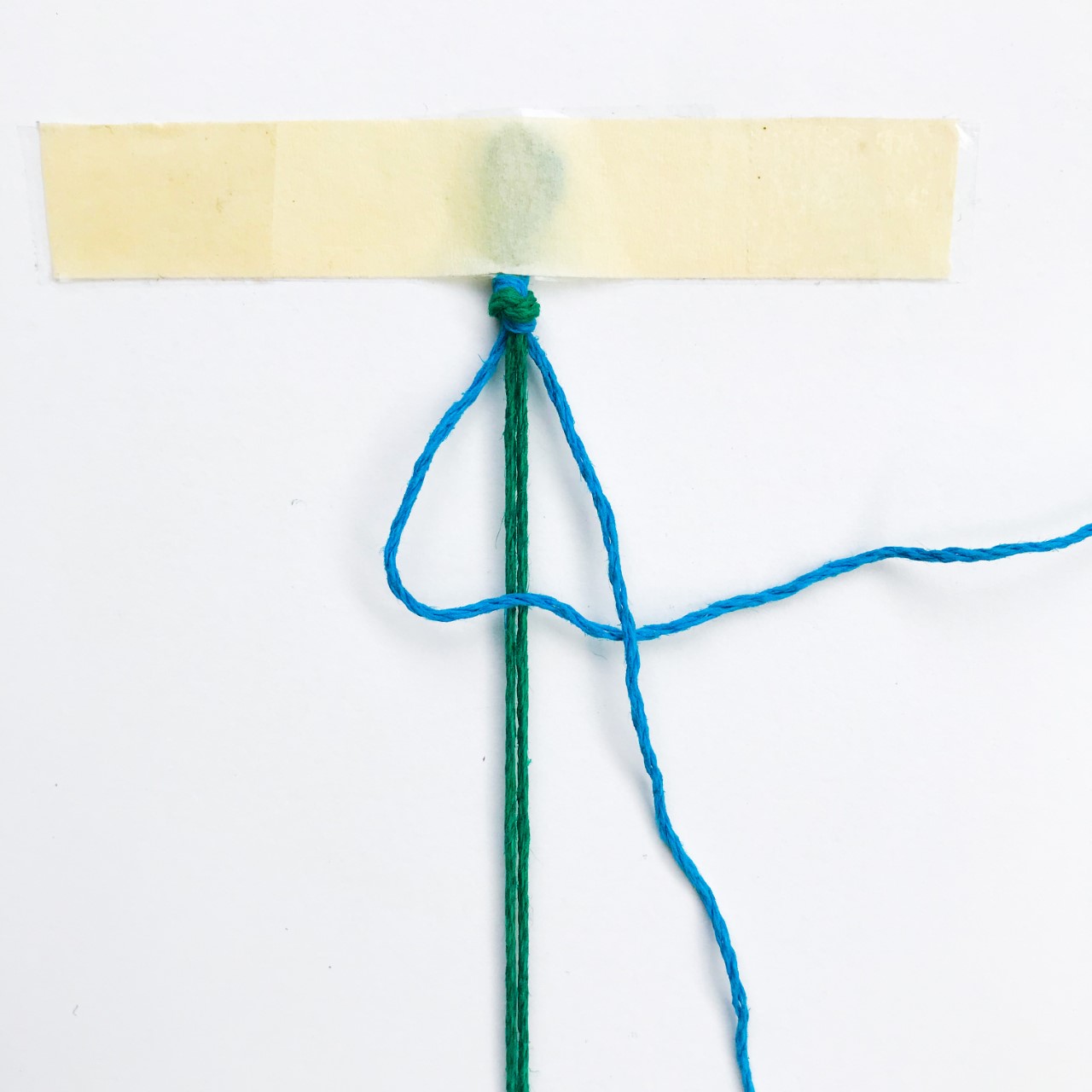 ---
Pass the right tying cord under the anchor cords and through the loop formed by the left tying cord. 
Pull tightly on both tying cords while sliding the knot up to the top. 
Repeat steps 3-6 starting with the right tying cord. Continue alternating between the left tying cord and with the right tying cord.
---
When you reach a place where you would like to add a bead string the bead onto the two anchor cords in the center and slide it up to your last knot.
---
The next knot will start below the bead with which tying cord you left off with. Make sure to pull both tying cords tight to hold the bead snuggly in place.
Continue to create alternating knots (and optionally adding beads) until you have reached the desired length of your bracelet.
---
Slide the last bead (clasp bead) onto all four cords. Using all for cords tightly tie a knot against the clasp bead.
Cut off the excess cord.
---
You have now learned how to make a macramé bracelet using square knots!
Tips
Plan your bead pattern ahead of time to see how many beads will fit the length you would like your bracelet to be.
If you lose track of which tying cord to start the next knot with, just look where you left off for a bump in the cord. Start the next knot with the side that has the bump on it.
Looking for more easy activities for creating your own Summer Learning Challenge? Find them, here.  Don't forget to show us what you made using #ilearnbecause on Facebook, Twitter or Instagram.