Saturday, September 05, 2020
Dinner Table Talks create the opportunity for families to have important conversations centered around books. These discussions will build our capacity for talking about race and define our roles in fighting against both every day and systemic racism.
Conversaciones durante la cena crea la oportunidad para que las familias tengan conversaciones importantes que giran alrededor de libros. Estas conversaciones desarollan la capacidad para hablar sobre raza y a definir nuestro papel en la pelea contra el racismo diario y sistemico.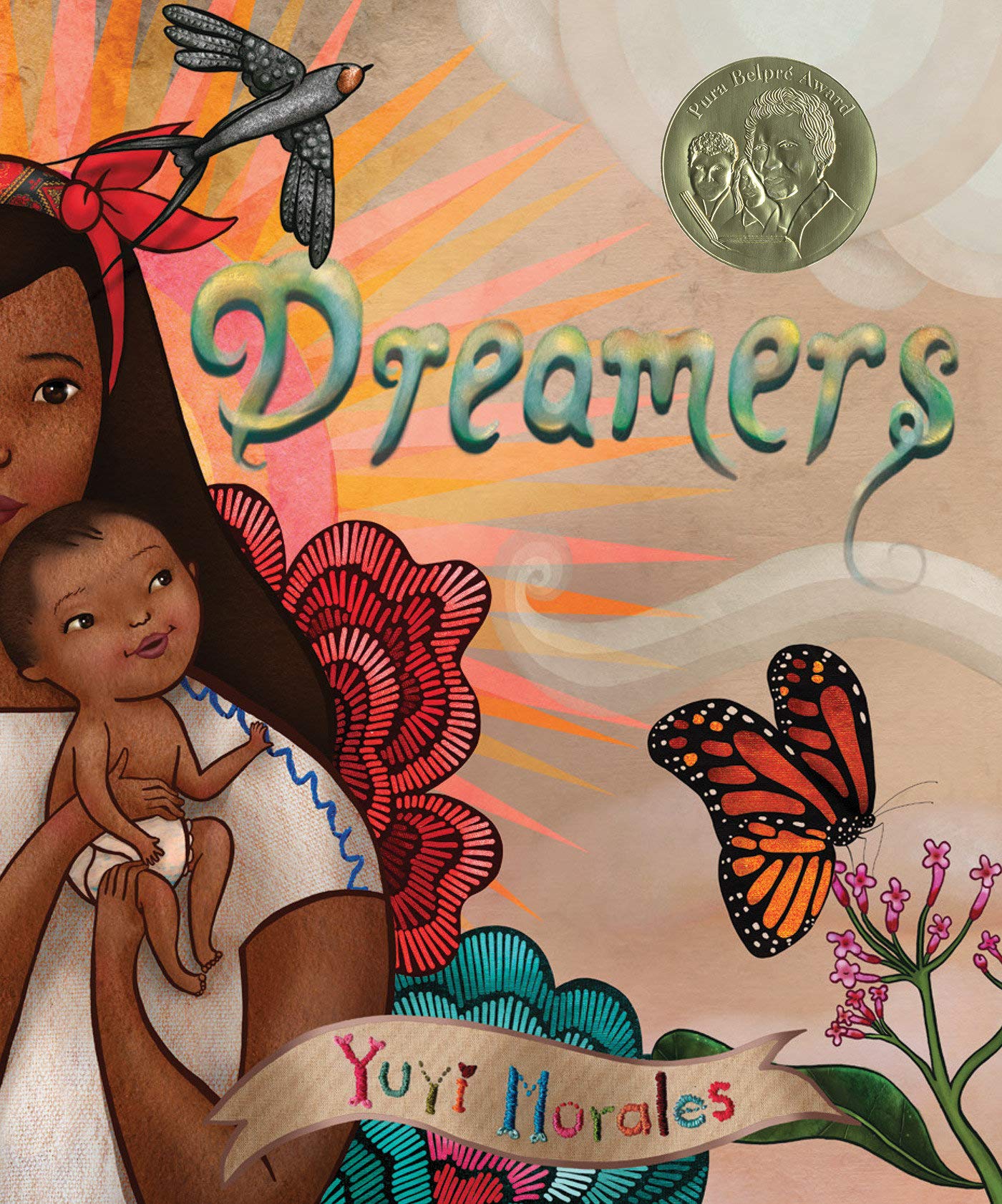 Dreamers by Yuyi Morales
Available as an ebook through Hoopla and Overdrive
Available as an eaudiobook through Hoopla and Overdrive
Place a request on print copies
Out of love a family was born. Together they packed things that would remind them of home and set on a journey to a new world. This world greeted them in many ways and in a language they couldn't understand. They discovered incredible things and a place that opened a world of opportunities and hope.
Del amor una familia nacio. Juntos empacaron cosas que les recordarian a casa y se lanzan en una aventura a un nuevo mundo. Un mundo que los recibio de muchas maneras y un lenguaje que no entendian. Descubrieron muchas cosas y un lugar el cual  les abrio un mundo de oportunidades y esperanza.
Recommended by Zuleyka Zayas | Children's Room Associate 
Guidelines for Discussion
Be open and honest--even when it's hard.

Understand your own prejudice and bias.

Embrace other cultures or races by reading books, watching movies and going to community events.  

Celebrate yourself and your own cultural identity.

Don't shy away from conversations about race. Talking is how you build capacity for anti-racism.  

Acknowledge your mistakes and learn from them.  

It's okay not to know the answer. Look for it together.
Adapted from the Embrace Race and MomsRisings' 10 Tips for Teaching and Talking to Kids About Race and Richland Library's Let's Talk Race team
Questions for Conversation
Immigrant--"A person who moves to a country from somewhere else."
Undocumented--A person "lacking proper immigration or working papers."
Refugee--"A person who flees for safety, especially to a foreign country, during times of political trouble, war or other danger."

Definitions from Teaching Tolerance.   
Younger Children (Preschool-2nd Grade)
What do you think it would feel like to go someplace unfamiliar and not  understand what people were saying?  
Why do you think people leave their home and move to America?
If you had to leave our home, what 5 things would you pack in your backpack?
How should our family treat people that are new to our country or our community?  What can we do as a family to welcome them?
What is your dream for the future?
Older Children (3rd Grade & Older)
How does our government treat people who are immigrants?  What would you change about this process?
Why do you think people leave their home and move to America?  Do you think the dream that they have of America matches the reality?
Why do you think the library and books were such a big part of Yuyi Morales' life in America? If you had a friend from another country, what place(s) would you share with them?
Yuyi Morales uses these words to describe her family:
We are stories. 

We are two languages.

We are lucha. 

We are resilience.

We are hope. 

We are dreamers,

Soñadores of the world.
What words would we use to describe our family?
What is your dream for the future?
Art for the Family


What is Symbolism?
 
Symbolism is when one idea, feeling, emotion or another concept is represented by something else.
In the book, Dreamers, author and illustrator Yuyi Morales uses many symbols in her illustrations to represent her thoughts, feelings and what being an immigrant means to her.
Monarch Butterflies – Starting migration to give a better life for the generations after
Bats - Migrate from Mexico to make new homes in California and Texas
Snakes – How as we move and learn there are obstacles put in our path that we don't understand the reasoning behind but in the end make us stronger
Volcano – Sleeping Woman/Warrior that represents feminine power and the waking of the power of the people
Have yourself and each member of your family brainstorm ideas for a symbol that represents their unique individual identities, something that will remind others of "who you are" when they see it. This could be:

Something that makes them happy
Their hobbies or talents
An image that represents their values

Everyone should sketch their ideas.
Once each member of the family has finalized their symbol, they can use an art technique of their choosing to add color to their symbol.
What You Need
White paper
Pencil
Markers, colored pencils and/or watercolor
Collage materials, magazines, colored paper, glue (optional)
Want to continue the conversation?  Need more resources about race? 
Take a look at the following booklists about the immigrant and refugee experience:
Also, check out our Understanding Race, Equity and Inclusion resource for more books, podcasts, events and information. 
Related Blog Posts