Charlotte D.
Wednesday, December 07, 2022
Ever wonder how you can turn boring gift boxes into wrapped wonders complete with handmade bows? You'll be proud to present these packages this holiday season or any other celebratory occasion! 
Supplies Needed
Floral ribbon (the ribbon shown here is Flora-Satin by Berwick) 

Gift wrap  

Gift-wrap or transparent tape 

Scissors or gift-wrap cutter 

And of course, your gift!  
Wrapping Paper Basics
Measure out your wrapping paper – it should be enough to come up at least two-thirds on either side of your gift, and enough to cover your gift with some extra to fold over for a clean edge. 
Position your gift on the paper so that you can use the least amount of paper possible while still covering your gift. 
Folding in the Ends
Once you get your wrapping paper cut, aiming to cut a straight line, wrap the paper around the gift and tape it with as few pieces of tape possible. 
Next, fold the ends using the following technique: 
Preparing Your Present for the Bow
Once your ends are taped, you're ready for your bow! This is the most exciting part of the process. You'll fold the ribbon over the gift in the following way, wrapping it first around the front of the gift, then crossing the ribbon in the back, and then finishing up with a double knot back in the front:
Front:
Back:
Front:
Creating Your Bow
Next, you'll loop the ribbon over your hands like this, keeping track of where the end of the ribbon is: 
Loop the ribbon over your hands at least 8 times – the more times you loop it, the fuller your bow will be! Cut the ribbon after you have the amount of loops you want:
Next, fold the ribbon loops in half, then cut two triangles on the fold like this: 
Then, tie your unfolded ribbon loops onto your gift like this, using a double knot: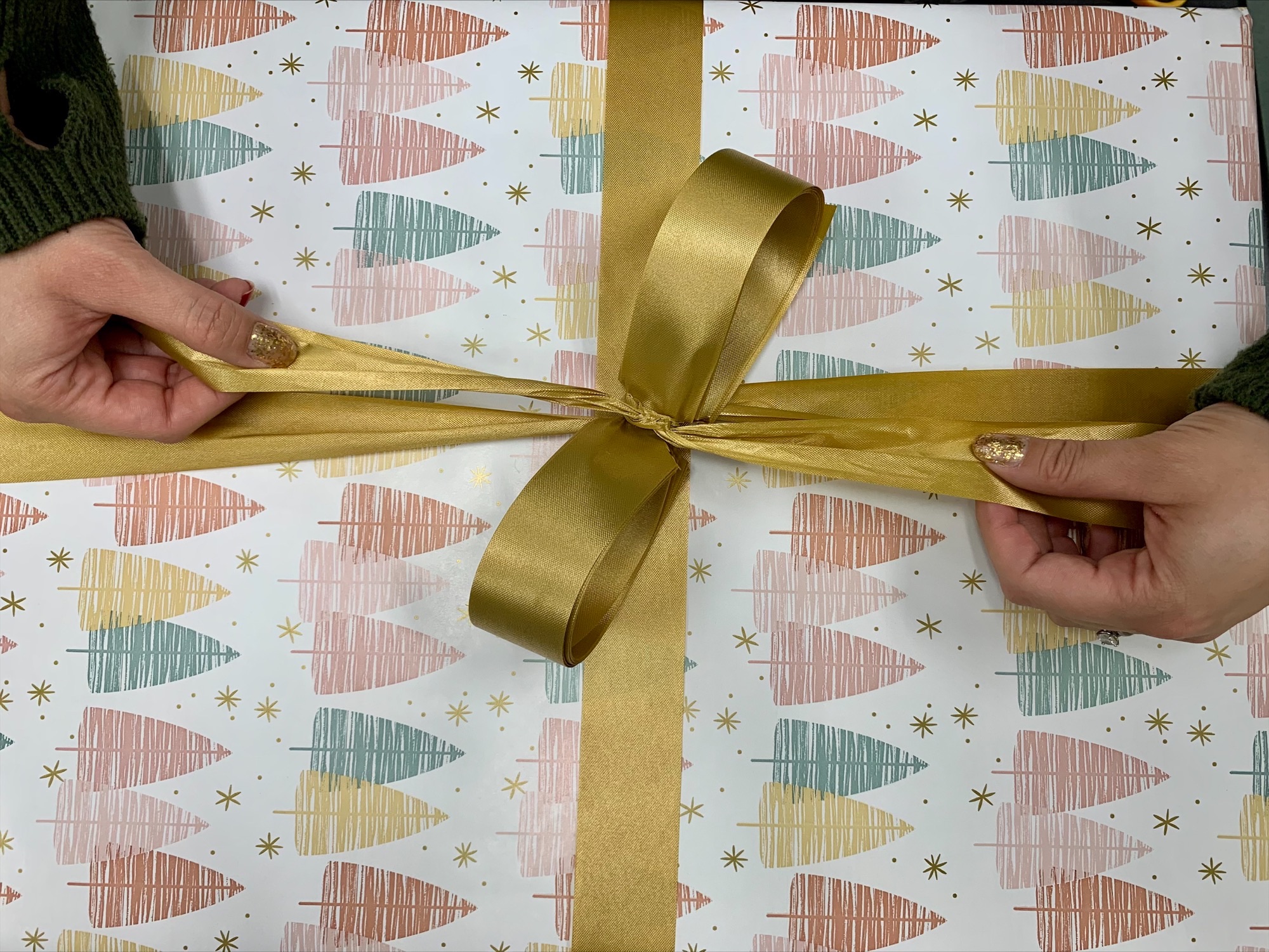 Assembling Your Bow
Tear your knot ends into three even pieces, then curl them using a ribbon curler or scissors (be careful!): 
Next, pull out the ribbon from the interior of the ribbon loops in alternating outward and upward motions to create your bow: 
Outward:
Upward:
Continue pulling out the ribbon loops, alternating outward and upward motions, and fluff up your ribbons as needed.
And finally, your present is wrapped! 
For more wrapping ideas and makerspace fun, be sure to check out Richland Library's Make & Create events!

Want to learn how to wrap like this in person? Sign up for Richland Library Cooper's Make & Create: Let's Wrap event happening on December 14, 2022!