Brianna K.
Tuesday, March 15, 2022
In the fall of 2021, I decided to change my houseplants' growing medium from soil to LECA (Lightweight Expanded Clay Aggregate). At that time, I had over 30 houseplants and found it challenging to keep up with their watering schedules and pest control. Then, one day, I came across a video on YouTube about LECA. I had never heard of LECA before, but I was determined to keep my houseplants alive. After researching what LECA was and how it worked, I discovered I could purchase LECA from a local plant nursery.
Before transitioning my entire plant collection over to LECA, I conducted a test trial run on one of my more common houseplants. After a few weeks, I was obsessed with LECA. Before long, 75% of my houseplants were in LECA. Now that I have worked with LECA for several months, I am ready to share my journey of switching from soil to LECA.
What is LECA?
LECA stands for Lightweight Expanded Clay Aggregate. In other words, LECA is baked clay balls that can soak up water and provide nutrients to plants.
Supplies needed to grow a plant in LECA:
LECA (Lightweight Expanded Clay Aggregate)
General Hydroponics Nutrients (Mineral-based plant food)
Net cups and planter pots
Cotton rope
Plants
pH control kit
Water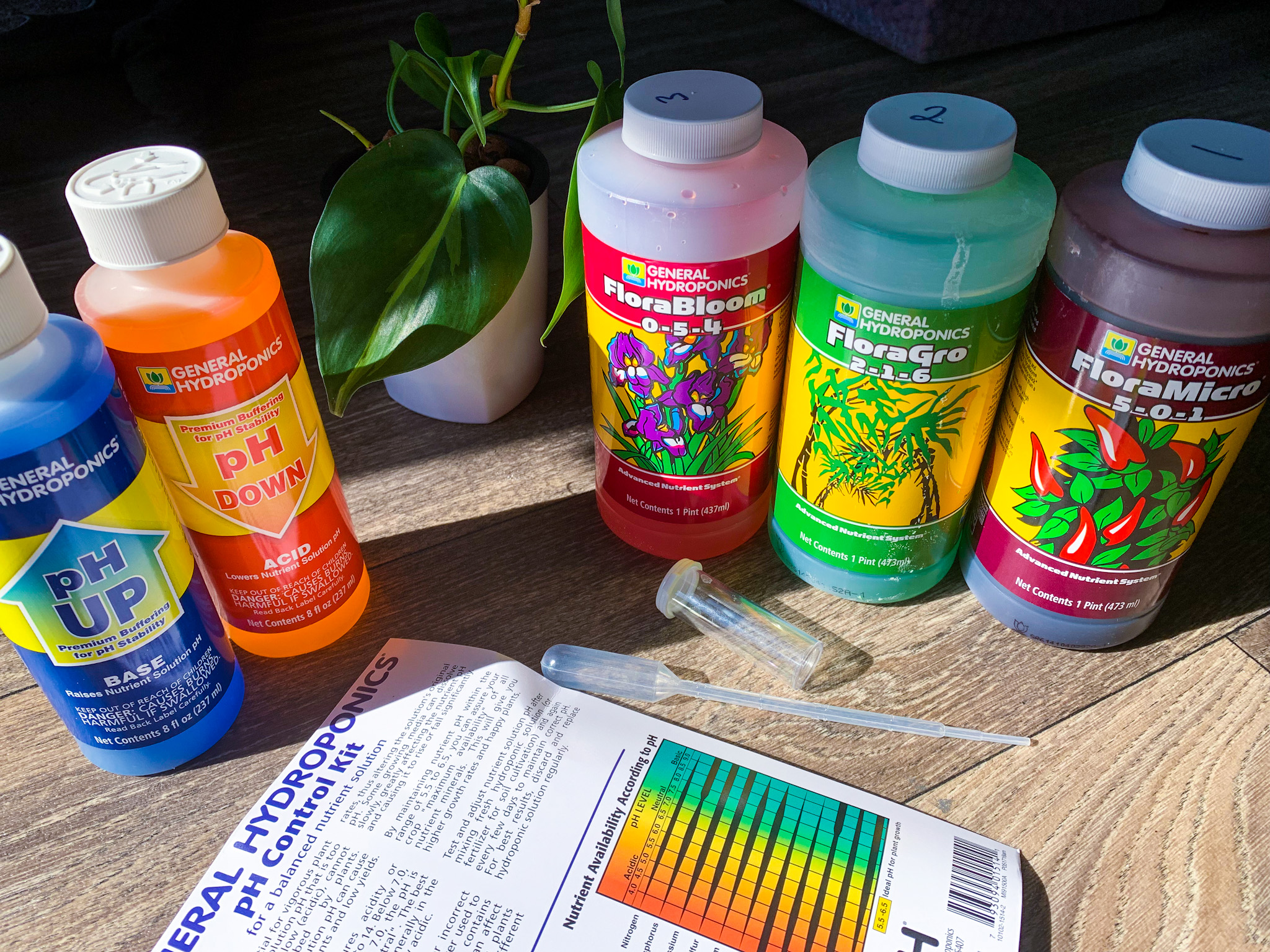 My guide for using LECA:
Sanitizing the LECA
When handling LECA for the first time, be sure to wash and soak it in the water for a few hours. Allowing LECA to soak in water is beneficial for removing dust particles. DO NOT pour the water down the drain because it can clog up your pipes. Instead, I recommend disposing of the water outside. Then, boil LECA in water for 10 minutes to remove bacteria. Again, be sure to pour any water used in the cleaning process outside. 
Prepping LECA does take some time. However, LECA is reusable by following these same steps.
Water and Nutrients
LECA is a self-watering medium, meaning the clay balls help plants absorb the water and nutrients they need without overdoing it. One benefit of using LECA is that your plant has a lower risk of root rot. Plants in soil often suffer from root rot when they are overwatered and can't drain properly.
Before watering my plants, I pour water into a gallon jug and place it in the living room to bring it to room temperature water. I do this so that I'm less likely to shock the plant's roots. Next, I take a water sample and use my pH control kit to test the pH levels. This kit is straightforward to use and comes with instructions on the back. 
Plants grow better at different pH levels. If I need to adjust the pH level, I use the pH Up and Down solution. After securing my desired pH level, I use the General Hydroponics Flora Grow Bloom solution to fertilize the water. This solution provides plants with the nutrients they usually absorb from the soil. 
Prepping the Houseplants
Plants need to have clean roots to be repotted in LECA. Remove soil by rubbing the plant's roots gently under running water. This step will take some time; however, this is very important in preventing root rot. If a significant amount of soil remains on your plant's roots, they could take in too much water and become soggy. However, if you use plant clippings, you can skip this step because clippings can grow clean roots in water. 
Self-watering Planter
Once your LECA, water, and plants are all prepared, cut a small piece of cotton rope and loop it through the bottom of the net cup. The rope is a critical element of the self-watering process because it allows the LECA to gradually absorb the water and provide food to the plants. Then place a small amount of LECA into the bottom of the net cup. Carefully place the roots on top of the LECA and fill in with LECA.
Benefits of LECA
Reusable
Easier plant care/ less maintenance
Less risk for pests
Easier access to checking a plant's roots
Plants I recommend for LECA
Philodendron
Alocasia
Pothos
Jade
Monstra Adansonii
Hoya
Looking for more information on plants? Check out the titles below: