Crystal M.
Wednesday, May 11
Create your very own self-care day! Check out the instructions below to get started on making your own bath bombs and body scrub. 
On Saturday, May 7th, three families attended Make & Create: Self-Care DIY at Richland Library Blythewood.  We had a great time making two DIY gifts just in time for Mother's Day; bath bombs and body scrub!  This can be a great family activity or just a great way to make some inexpensive self care items.  You might even have most of the ingredients at home already.  Here's what you need:
DIY BATH BOMBS
Dry Ingredients:
• ½ cup Baking soda 
• ¼ cup Corn starch
• ¼ cup Epsom salt / Known to soothe muscles & soften skin
• ¼ cup Citric Acid / MIX LAST!  Reacts with baking soda & water to create fizz
Wet Ingredients:
• 3 tsp. Cator oil  / Known to be a natural anti-inflammatory & hydrate skin
• 1 Tbsp. Essential oil  / For scent
• Soap colorant or food coloring (few drops for lighter color, add more drops for a richer color)
• ¾ tsp. Water 
Equipment:
• Bowl & whisk for mixing
• Measuring cup
• Measuring spoons
• Plastic molds
• Cup for mixing wet ingredients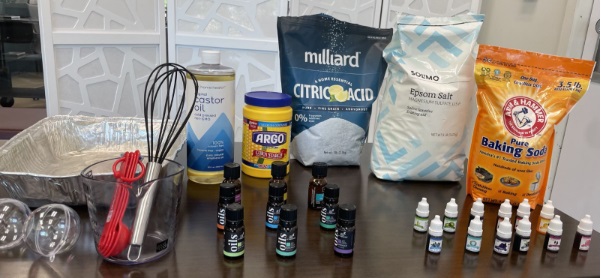 Instructions:
Mix all dry ingredients (EXCEPT CITRIC ACID) in a bowl & blend well with a whisk.  The citric acid will be mixed at the very end to ensure it does not react with the wet ingredients too soon.

 

Mix all wet ingredients in a small cup & stir.  Choose your favorite essential oil or mix & match for a blend of scents!

 

Add wet ingredients to dry ingredients slowly (a little bit at a time) and whisk.  Continue whisking until you have an even consistency.

 

Add citric acid & blend well.  Your mixture should feel like soft sand.

 

Fill plastic mold with mixture & let dry overnight to harden.

 

Here's your final product after it is removed from the mold!

 
DIY BODY SCRUB
Ingredients:
• ½ cup Granulated sugar
• ¼ cup Coconut oil (softened)
• Essential oil
Equipment:
• Bowl and spoon for mixing
• Container to store scrub
Instructions:
Put ½ cup of sugar in bowl for mixing.
Add ¼ cup of coconut oil and stir until blended.  Add a bit more oil if your mixture is too grainy.  You may substitute for another preferred oil such as olive oil.  Be sure your mixture is not too oily so you still feel the exfoliating effects of the sugar.
Add a few drops of essential oil until scrub is scented they way you like.
Place mixture in container to keep fresh.
Check out some of the books below to learn more about other ways to use essential oils or sign up for Creativebug to view a class on making bath bombs!
The Complete A-Z Reference of Essential Oils for Health and Healing
Published in 2021
454 pages : color illustrations ; 22 x 21 cm
Your Questions Answered
Published in 2022
xxvii, 125 pages ; 25 cm.
A Practical and Easy-to-use Guide to Unlocking the Powers of Essential Oils
Published in 2019
171 pages : illustrations (some color) ; 23 cm
Related Blog Posts