Edgewood Staff
Wednesday, November 16
Unbeknownst to many, the Edgewood neighborhood has a long and rich history.
Like other settlements in the Southern Colonies from the mid-1700s to the early 1900s, the predominantly Black community rests on what were formerly acres of agricultural estates. Benedict College, a private historically Black university, was established in 1870 by the American Baptist Home Mission Society on what was formerly 110 acres of a former plantation in order to educate African American ministers and teachers. Barhamsville Road and its neighborhood were named after Jane Barham and Barham Marks, the wife, and son of Dr. Elias Marks. Dr. Marks was an affluent physician, educator, slaveholder, and native Charlestonian who founded the prestigious South Carolina Female Collegiate Institute in the area. 
In the late 1800s, families like the Seegers and Kendalls owned a significant portion of the land, now part of the Edgewood neighborhood. Drew Park, a once-segregated African American recreational park, initially opened in 1946 as Seegers Park, named for the white family that resided and operated a brewery on the site in the late 1800s.In the 1930s, A. P. Gordon, a local businessman, and his wife, John Ann Gordon, and many other African Americans, purchased the remaining Seegars' land to build homes. Before Edgewood, much of the neighborhood became known as Kendalltown. Dr. Francis Drake Kendall owned a substantial plot of land on what is now Barhamsville Road, which was once part of the site of the South Carolina Female Collegiate Institute, beginning in the late 1800s. In the 1890s, the region designated as Kendalltown welcomed African American residents who began to settle on parcel carved out of Dr. Kendall's agricultural farmland. 
During the Jim Crow era, Black residents were classified as second-class citizens, unable to purchase property in "whites-only" communities owing to unlawful, discriminatory service practices such as redlining. Furthermore, due to such legislation, black Americans were forced to enter white-owned businesses through separate entrances. African American families flocked to areas like Edgewood to build self-sustaining communities that supported Black-owned businesses and religious institutions in response to discriminatory policies. M. H. Baxley's Grocery and Esso Station, Hill's Barbershop, Read Street Pharmacy, Read Street Variety Store, Gordon Grocery, Robinson Pool Hall, The Shady Rest Restaurant & Nightclub, Dreher & Dreher Dry Cleaners, Gottlieb's Fabric, Manigault-Hurley Funeral Home, and countless others welcomed Black customers through the front door. 
Through key pivotal events such as Jim Crow, segregation and desegregation, and the drug epidemics of the 1980s and 1990s, Edgewood provided a sense of kinship and fostered cultural identity. These events had an impact on the lives and fates of Edgewood residents, notably Ethel Bolden, Gottlieb Jones Harvest, Moses Felder, Gardenia Fair, Myrtle Gordon, and many more, who all became advocates for crime control and black homeownership. Educational trailblazers like Buelah Baxley Johnson, Ada Cooper, and Annabelle Satterwhite were instrumental in establishing the Bethelem Center, a recreation, daycare, and training facility, in 1945 through funding from the United Methodist Church. The center served residents of the Saxon Homes, Allen Benedict Court, Jaggers Terrace, Barhamville Estates, Jones-McDonald, Eva P. Trezevant, and Read Street neighborhoods, from the working class to the middle class. While many of Columbia's Black neighborhoods have deteriorated over time as a result of gentrification and deprivation, Edgewood is still rebuilding and evolving.
Edgewood thrives in its unique way, despite its ups and downs. Despite all odds, many of its younger residents have gone on to higher education and become successful professionals, entrepreneurs, lawyers, physicians, nurses, and police officers in their own right. As a lifetime resident of Edgewood, I have observed its most recent transformation. Growing up in the neighborhood in the 1990s, I experienced the community's deterioration. However, its heritage and history shone through like a rose blossoming from concrete.
Take a look at the images below to observe the evolution of the Edgewood community.
Allen Benedict Court
Constructed in 1939, Allen-Benedict Court was one of America's first public housing developments. Along with Jagger's Terrace and Saxon Homes, Allen-Benedict Court was constructed during a segregated era to offer African American residents affordable housing. Former residents have gone on to become attorneys, physicians, ministers, educators, athletes, and other professionals.
Annie Greene Nelson
Annie Greene Nelson (1902-1993), South Carolina's first published Black woman novelist resided in the Edgewood community for many years at 2129 ½ Oak St. She published her first novel, "After the Storm," in 1942, then went on to write four more books and two plays before her death.
Barhamville Road
Barhamville Road and the community located on it were named for Jane Barham and Barham Marks, wife and son of Dr. Elias. A wealthy physician, professor, slaveholder, and Charleston native, Marks founded the South Carolina Female Collegiate Institute, a prestigious women's school, in 1828. The school, also known as Barhamville Academy, operated until it burned down in 1865. Barhamville Road became home to many working and professional class African American families in the early 20th Century.
Benedict College
Benedict College, a Historically Black College and/or University (HBCU) was established in 1870 by the American Baptist Home Mission Society to educate African American ministers and teachers on 110 acres of a former plantation. The institution only offered six courses in its early years, yet today the HBCU has grown to offer twenty-nine degrees in a variety of liberal arts disciplines.
The Bolden Family
Charles Bolden Sr. (1917-1979), a native of Columbia, was an educator and head football coach. He was also an athletic director at C.A. Johnson High School from 1949 until 1972. Because of his exceptional coaching abilities and his ambition for educational success for his students, W. A. Perry's Bolden Stadium was named in his honor. His wife, Ethel Martin Bolden (1918-2002), was a driving figure in Columbia's educational system, helping establish libraries within Columbia's African American schools. Mrs. Bolden became Dreher High School's first African American librarian in 1968 and remained until her retirement in 1982. Both Charles Sr. and Ethel were also well-known for their extensive civic participation. Charles Bolden Jr., their oldest son, graduated from C. A. Johnson in 1964 and went on to become a NASA administrator, a Major General in the United States Marine Corps, and an astronaut who flew on four space shuttle missions.
Carver-Lyon Elementary School
Carver School, opened on September 12, 1938, after increased enrollment at Leevy School, Kendalltown/Barhamville's first African American school. The original Carver School was demolished at the end of 1999, merged with Lyon Street School, and rebuilt on the same site.
Celia Saxon/Saxon Homes Community
Saxon Homes was a public housing development completed on April 15, 1953 and demolished in September of 2000. Developed on the same site, the Celia Saxon community was completed in May of 2003. Former residents of Saxon Homes like to remember the joyous moments, such as the various social functions that fostered community kinship and solidarity. The area was named for Celia Dial Saxon (1857-1935), an educator and social activist born into slavery but who went on to become a key figure in the establishment of educational institutions for Black children such as the Fairwold Industrial School for Delinquent Negro Girls, the Wilkinson Orphanage for Negro Children, and the Phillis Wheatley YWCA, which included the first public library in Columbia for African Americans.
C. A. Johnson High School
Cornell Alvin Johnson (1882-1970) was a renowned Black Columbia educator and leader, who became the first administrator of Negro schools in 1930. He was commemorated with the naming of C. A. Johnson High School, which opened in 1949. The school sits on part of the site of the historic Leevy School, a four-room Rosenwald school for African American students founded in 1927 that once sat on four acres of property at 2120 Gordon St. The first principal of C. A. Johnson was Dr. C. J. Johnson Jr. (1911-1988), who remained the principal until his retirement in 1977. Originally built to ease overcrowding at Booker T. Washington High School, C. A. Johnson now educates around 480 students from grades nine through 12.
Drew Park
Drew Park, a once-segregated recreational park for African Americans, first opened in 1946. Seegers Park was named after a wealthy white family who owned and operated a brewery on the site in the late 1800s. Due to opposition, the park was renamed in 1952 after African American physician Dr. Charles R. Drew. After its completion in May 1950, Drew Park featured Columbia's first African American public swimming pool, and was home to the "Drew Park Pool Sharks," a very successful swimming team. Drew Park is at the heart of Edgewood's community development and social events. In the early 2000s, the park underwent significant renovations, and in 2005, the Charles R. Drew Wellness Center was opened.
Edgewood Religious Institutions
The Edgewood community has religious institutions that span many denominations. Second Nazareth was founded in 1903 as Macedonia Baptist Church on Huger and Gervais Streets. In October 1906, Reverend Rafe Myers (1882-1936) moved the church to its current location. A small number of Second Nazareth members split from the church and founded Trinity Baptist Church on what was known as Elbow Alley (Waverly St.). The church then relocated to 1600 Harden St. and eventually to 2521 Richland St. Because of the expansion of the University of South Carolina, many older churches relocated to Edgewood. Union Baptist Church, founded in 1907 at 1000 Divine St., was rebuilt at 1600 Germany St. in 1969. The Progressive Church of Our Lord Jesus Christ, founded in 1945, moved to 2217 Waverly St. in 1952 and then 2222 Barhamville Rd. in 1962. Jones Memorial AME Zion Church was organized in 1889 and originally founded on Main St. Bishop Charles Manuel "Daddy" Grace (1881-1960) formed the Columbia branch of The United House of Prayer in the 1930s. It moved to its current location on Read St., in 1940. Emmanuel A.M.E. Church was founded in 1877, and by the early 1940s was present at its current location of 2130 Barhamville Rd. Muhammad's Temple of Islam once stood on the property where The Progressive Church of Our Lord now rests. The temple was Columbia's Nation of Islam community hub during the 1960s and was visited by Malcolm X in April 1963.
Gordon Street
Gordon Street runs over property where the historic Leevy School once sat. The street was named for prominent Columbia businessman Arthur Pickens Gordon (1896-1985) and his wife, John Ann Morgan (1898-1976) who bought property there in the 1930s and constructed concrete block bungalows on the street. Many African American World War II Veterans went on to purchase homes on Gordon St. during that time. The Gordon's son, George Gordon (1928-1990) went on to marry Myrtle McMillan (1924-2008), who is considered the "Matriarch of the Edgewood Community." She was an educator and community activist who along with other Edgewood activists, including Ethel Bolden (1918-2002), Elise Martin, Moses Felder, and Gardenia Fair (1921-2005), formed the Community Improvement Cooperative Council in 1985, which advocated for revitalization and homeownership. Read Street is now crime-free due to their diligent efforts. In 1996, Gordon Bowman Street was named to honor Mrs. Gordon and Reverend William McKinley Bowman (1914-2000), the former pastor of Second Nazareth Baptist Church, co-founder of the WOIC radio station, and Civil Rights activist. Myrtle Grove, an affordable housing development that opened in April 2021, bears her name as well.
Hill's Barbershop
Hill's Barbershop, a historic landmark and gathering place for the Edgewood community, is located on the site of the original M. H. Baxley's grocery store in Edgewood. The store relocated across the street, and the property was purchased by John Hill (1917-1967), a barber. After the death of Mr. Hill, Deacon Moses Felder acquired the barbershop.
Jaggers Terrace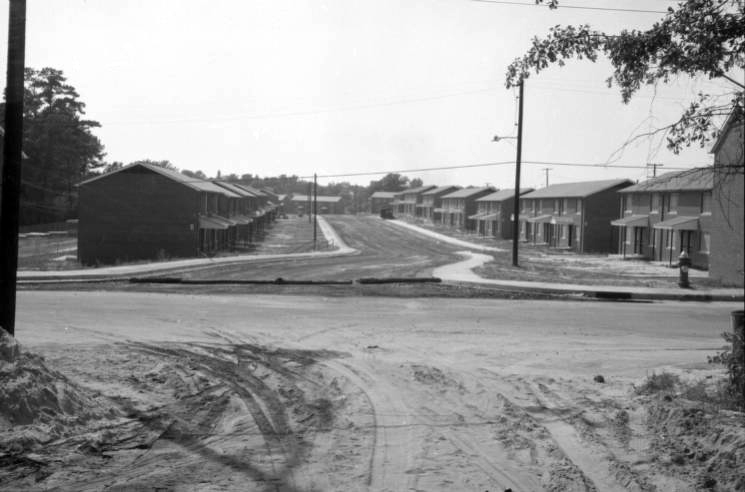 The Jaggers Terrace public housing complexes were built in 1955 on a portion of land where the 19th-century Barhamville Collegiate Institute for Women once stood. In 1999, it was demolished to build Watkins-Nance Elementary School and a twenty-five single-family home community renamed Jaggers Plaza. The neighborhood was named after Reverend Charles Jaggers (1831-1924). Uncle Jaggers, as he was called, was born enslaved. However, he went on to become an illustrious preacher, missionary, and philanthropist throughout Richland County in the late 19th and early 20th centuries.
Kendalltown
Dr. Francis Drake Kendall (1856-1943) owned a vast amount of property on what is now Barhamville Road beginning in the late 19th century, land that was once part of the site of the South Carolina Female Collegiate Institute. Dr. and Mrs. Kendall were well-known for their extravagant lifestyle and the countless events hosted at their home that once sat on Barhamville Road. The area was termed Kendalltown in the 1890s and soon after African American residents settled on lots formed out of land originally farmed by Dr. Kendall. His descendants remained property owners in the Barhamsville area into the 1950s.
Leevy School
Constructed in 1927, Leevy Graded School was the first to serve Black students in Kendletown. Built from funds donated by the Rosenwald Foundation, it was named for local business leader I.S. Leevy (1917-2012), who diligently worked to raise additional funds and secure its building site.
M.H. Baxley Grocery Store
Manning Hartford Baxley (1899-1980), a prominent entrepreneur, opened his second grocery store in Kendalltown in 1934 at 2339 Elmwood Ave., which was managed by his brother Johnnie Herman Baxley (1907-1983). The business moved to 2101 Barhamville Rd. in 1957 and featured an Esso filling station. Baxley owned Hartford Nursing, the Town & Tourist Motel and the Coffee Shop. In addition, he was the first African American to own a dairy. Baxley's son-in-law, Irvin E. Johnson (1935–2015), took over management of the Edgewood store in 1962 after marrying Cecily Baxley. After Baxley's, Johnson continued to helm his enterprises until his passing.
Read Street
The Read Street community, a Black business district and gathering place for Edgewood members in its heyday, was a thriving neighborhood with tree-lined streets where one could buy the best barbecue in town at the Shady Rest Restaurant and Nightclub, and talk to their neighbors over the back fence. The 1980s saw an uptick in crime along Read Street and safety concerns caused the social atmosphere of the street to change. However today Read Street is once again attracting new businesses and serving as a meeting place for Edgewood neighbors.
Reverend Richard Carroll
Reverend Richard Carroll (1860-1929) was an influential Black leader in South Carolina who lived and died at a home that no longer exists at 2214 Barhamville Rd. Carroll, a Baptist clergyman, lecturer, and activist, was born into slavery to an enslaved mother and a white slave owner in Bamberg County in 1860. He graduated from Benedict College with a degree in theology, then furthered his studies at Shaw University. After serving in the Spanish-American War, Carroll returned to South Carolina and went on to establish the Industrial Home for Boys and Girls, an employment bureau for Black Columbians, and the State Colored Fair. His wife, Mary Magdalene Sims (1861-1913), was one of Benedict College's first alumni.
T. S. Martin Park & Community
A well-known figure in Columbia's African American community and educational system until his death in 1993, Thomas S. Martin (1911-1993) was an educator at Booker T. Washington High School, and served as director of the Drew Park pool, where he led the "Drew Park Pool Sharks" to many victories. In 1980, a park built behind W. A. Perry Middle School was named in his honor, and thirty-five single-family homes adjacent to the park were christened the T. S. Martin community in 2002.
W. A. Perry Middle School
William Augustus Perry Middle School opened its doors in the Fall of 1956 for African Americans in the Edgewood community. The school's innovative campus-style design with isolated buildings built on terraces at three different levels had never been done before in Columbia. W. A. Perry's first principal, Mr. Carl W. Fields (1912-1979), who was principal of Waverly Elementary School beforehand, served in the role until June 1974.
 
Photos courtesy of The Walker Local & Family History Center and The South Carolina Digital Library's Joseph Winter Photograph Collection.
Related Blog Posts