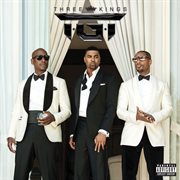 Edition:
[Explicit version].
Description:
1 online resource (1 audio file (1hr., 03 min.)) : digital.
In 2007, Tyrese, Ginuwine, and Tank -- singers who have well over a dozen Top Ten R&B albums between them -- worked on a remix of Tank's "Please Don't Go" and then appeared on a Slim Thug track. Restrictive industry logistics prevented the group from moving forward. Several years later, the trio signed with Atlantic to make the satisfactory Three Kings, an hourlong affair that doesn't deviate much from any of the men's recent solo work. They're mature enough to admit imperfections and plead for forgiveness, yet they're not above being as over-the-top salacious as singers half their age. Tank is the most accomplished songwriter of the three -- he penned "One" for Tyrese and "Heaven" for Ginuwine -- so it's unsurprising that he contributed the most to the songwriting process. He either wrote or co-wrote eight of the songs, while Ginuwine took part in four songs and Tyrese had a hand in two -- four if interludes are counted. The most notable aspect of the album is that it was released by an R&B group. A close second is that it required well over 20 additional songwriters -- north of 30 if sample credits are factored in -- to be made. It's heavy on slow jams and ballads, drawing from elder leaders of the form, such as the Isley Brothers, Roger Troutman, and R. Kelly. Some of the songs are as strong as anything from the members' 2010s solo work, but not much truly stands out. Opener "Take It Wrong," for instance, resembles a rewrite of Chris Brown's "Take My Time" (which happened to feature Tank in a non-writing role). The Tank-led "Explode" slithers like his "Compliments," but it's nonetheless a highlight, as are "I Need" and "Next Time Around" -- songs where the trio members sound like they weren't thrown together merely for the sake of standing out in a field that consists almost exclusively of solo artists. ~ Andy Kellman
Contents:
Take It Wrong (feat. Black-Ty) (4:23) -- No Fun (feat. Problem) (4:00) -- Sex Never Felt Better (4:10) -- I Need (4:32) -- Next Time Around (3:47) -- Interlude (1:00) -- Hurry (3:19) -- Weekend Love (3:56) -- Lessons In Love (3:53) -- Interlude (1:05) -- Explode (3:52) -- FYH (4:09) -- OMG (3:57) -- Running Back (4:44) -- Burn Out (3:41) -- Tearing It Down (4:22) -- Our House (4:34).
UPC:
075679946843 (sound recording : hoopla Music)
More Formats
Parental advisory: Explicit content.
Electronic resource.
Digital content provided by hoopla.
TGT (Tyrese, Ginuwine, Tank) ; with acc. musicians.
Mode of access: World Wide Web.

Additional Notes