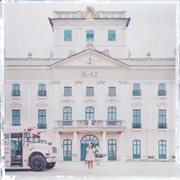 [United States] : ATL, 2019.
Description:
1 online resource (1 audio file (46 min.)) : digital.
The sophomore full-length album from Melanie Martinez, 2019's K-12, finds the arty pop singer offering yet more darkly emotive anthems centered on adolescence and growing up. Again at the center of the album is Martinez's alter ego "Cry Baby," the titular character introduced on her 2015 debut. As with that album, K-12 features songtitles inspired by school-age themes including "Show & Tell," "Nurse's Office," and "Wheels on the Bus," albeit with many of the tracks working as metaphors for more turbulent adult issues. For example, the lyrical and dreamy "Strawberry Shortcake" is both about going through puberty and struggling with the male gaze. Similarly, on "Show and Tell," Martinez references the time-honored kindergarten activity in order to dig deeper into the toxic love/hate relationship between artist and fan. She sings, "Harsh words if you don't get a pic with me/Buy and sell like I'm a product to society." Aiding Martinez with her highly conceptual pop sound is longtime associate producer/songwriter Michael Keenan, who also worked on Cry Baby. Also returning is Cry Baby alum One Love (aka Tim Sommers) for the moody "Drama Club." Musically speaking, K-12 has the same hip-hop and R&B underpinnings that Martinez favored on Cry Baby, with tracks like the aforementioned "Drama Club," "The Principle," and "Detention" showcasing her detached, periodically down-pitched babydoll vocals and a penchant for what sounds like midtempo xylophone and African finger-piano grooves. That said, it's also a more sophisticated production, with better hooks showcasing Martinez's growth as a songwriter. It's a sound that ably straddles the line between Lana Del Rey's disaffected noir style and Mike Posner's more confessional pop. Notably, the album also arrives in tandem with a colorfully eye-popping short film, written and directed by Martinez, that draws inspiration from her songs. While the album certainly works independently of the film, K-12 plays at a cinematically measured pace, perfect for both afterschool and afterhours listening. ~ Matt Collar
Contents:
Wheels on the Bus (3:40) -- Class Fight (2:41) -- The Principal (2:56) -- Show & Tell (3:35) -- Nurse's Office (3:22) -- Drama Club (3:45) -- Strawberry Shortcake (3:04) -- Lunchbox Friends (2:49) -- Orange Juice (3:37) -- Detention (3:56) -- Teacher's Pet (4:01) -- High School Sweethearts (5:11) -- Recess (3:50).
UPC:
075679840936 (sound recording : hoopla Music)
Electronic resource.
Digital content provided by hoopla.
Melanie Martinez.
Mode of access: World Wide Web.

Additional Notes