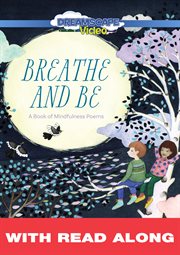 Breathe and Be (Read Along)
A Book of Mindfulness Poems.
Description:
1 online resource (1 video file (approximately 14 min.)) : sound, color
I breathe slowly in, I breathe slowly out. My breath is a river of peace. I am here in the world. Each moment I can breathe and be. Hear thunder crash, feel your toes touch sand, and watch leaves drift softly away on a quiet stream. The simple poems in Breathe and Be help children learn mindfulness as they connect to the beauty of the natural world. Mindfulness teaches us how to stay calm, soothe our emotions, and appreciate the world around us. Whether we're watching tiny colored fish darting in the water or exploring the leaves, branches, and roots of a towering tree, the thoughtful words and the lovely art of Breathe and Be remind us how much joy we can find by simply living with awareness and inner peace.
Other Authors:
Coombs, Kate, author.
Laitinen, Anna Emilia, illustrator.
Jones, Andy T., film director.
Hatcher-Kay, Elijah, narrator.
Salerno, Olivia, narrator.
hoopla digital.
Target Audience:
Not rated.
Electronic resource.
Digital content provided by hoopla.
Directed by Andy T. Jones.
Narrated by Elijah Hatcher-kay, Olivia Salerno.
Mode of access: World Wide Web.

Additional Notes