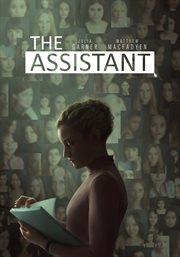 [United States] : Bleecker Street, 2020.
Description:
1 online resource (1 video file (approximately 87 min.)) : sd., col.
A searing look at a day in the life of an assistant to an entertainment mogul. As Jane follows her daily routine, she grows increasingly aware of the insidious abuse that threatens every aspect of her position and she decides to take a stand.
Other Authors:
Green, Kitty (Filmmaker), film director, screenwriter, film producer, editor of moving image work.
Macaulay, Scott, film producer.
Schamus, James, 1959- film producer.
Dana, P. Jennifer, film producer.
Jacobson, Ross, film producer.
McClendon, Blair, 1991- editor of moving image work.
Latham, Michael (Cinematographer), director of photography.
Tamar-kali, composer (expression)
Garner, Julia, 1994- actor.
Macfadyen, Matthew, 1974- actor.
Leigh, Makenzie, 1990- actor.
Froseth, Kristine, 1996- actor.
Orsini, Jon, 1985- actor.
Robbins, Noah, 1990- actor.
Chaplin, Alexander, 1971- actor.
Sanders, Jay O., 1953- actor.
Canfield, Juliana, actor.
Dominczyk, Dagmara, 1976- actor.
Heinen, Bregje, actor.
Wong, Clara (Actor), actor.
hoopla digital.
Target Audience:
Rated R.
More Formats
Digital content provided by hoopla.
Directed by Kitty Green.
Julia Garner, Matthew Macfadyen, Makenzie Leigh, Kristine Froseth, Jon Orsini, Noah Robbins, Alexander Chaplin, Jay O. Sanders, Juliana Canfield, Dagmara Domińczyk, Bregje Heinen, Clara Wong.
Mode of access: World Wide Web.

Additional Notes