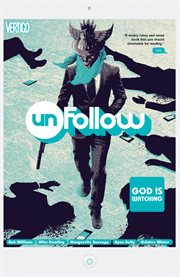 God is Watching. Issue 7-12
Description:
1 online resource
DOWN FOR THE COUNT: Larry Ferrell died as he lived-changing the world. As the legendary founder of the social network Headspace, which connects nearly everyone on the planet, Ferrell gave away his entire fortune on his deathbed-18 billion dollars, evenly divided between 140 randomly selected strangers. With the money came one simple condition: if any of the recipients dies, their shares are automatically redistributed to those still alive. The result? Kidnappings. 'Accidents.' Murder. Slowly but surely, the 140 are dwindling, and no one-not the rich and famous socialite, not the strangely prescient guru, not the tough-as-nails reporter-is safe. But death is not the end that it might seem to be. Behind this sinister experiment is a secret that Ferrell kept from everybody, including those responsible for the 140 program-and now all the masks are about to come off. UNFOLLOW VOL. 2: GOD IS WATCHING brings a new level of savage insight to Rob Williams and Mike Dowling's razor-sharp thriller, with special appearances from guest artists Marguerite Sauvage and Ryan Kelly.
Other Authors:
Dowling, Mike (Comic book artist), artist.
Sauvage, Marguerite, artist, colourist.
Kelly, Ryan, 1976- artist.
Winter, Quinton, colourist.
Robins, Clem, 1955- letterer.
Taylor, Matt (Illustrator), illustrator.
hoopla digital.
Electronic resource.
Digital content provided by hoopla.
Mode of access: World Wide Web.

Additional Notes