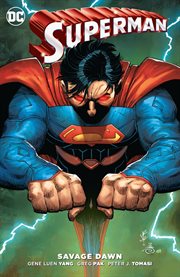 Savage Dawn.
[United States] : DC Comics, 2017.
Description:
1 online resource
Acclaimed writers Gene Luen Yang (Boxers & Saints), Greg Pak (BATMAN/SUPERMAN), Aaron Kuder (SUPERBOY) and Peter J. Tomasi (BATMAN & ROBIN), joined by a who's who of artists including Howard Porter (JUSTICE LEAGUE #3001), Ardian Syaf (BATMAN/SUPERMAN) and Doug Mahnke (GREEN LANTERN), bring one of DC's mightiest-and oldest-villains to the forefront and signal the final days of Krypton's last son. Vandal Savage can afford to be patient-he's immortal, thanks to fragments from a comet he came into contact with more than 40,000 years ago...a comet that he has since spent eons and spilled blood trying to bring back to Earth. A comet that, should he reclaim it, will grant him untold might. Savage's patience is about to pay off. Through his operatives, he's taken Superman's powers-and, indirectly, his secret identity-to siphon the collective strength of the Justice League and generate the ultimate tractor beam. As the beam draws Savage's long-lost comet all the way back to Earth, unsuspecting souls bearing the immortal's genetic signature are suddenly infused with maddening might, while their 'father's' already-incredible power exponentially increases. Only a handful of heroes, led by Wonder Woman and a depowered Superman, stand between Savage and his comet, and soon even they won't be enough-that is, unless Superman taps into a deadly element from his past to deny his immortal adversary a future of eternal power. Collects SUPERMAN ANNUAL #3, ACTION COMICS #48-50, SUPERMAN/WONDER WOMAN #25-27 and SUPERMAN #48-50.
Other Authors:
Kuder, Aaron, author, artist.
Pak, Greg, author.
Tomasi, Peter, author.
Yang, Gene Luen, author.
Bogdanove, Jon, penciller, inker.
Cifuentes, Vicente, penciller, inker.
Fernandez, Javi, penciller, inker.
Albarran, Juan (Comic book artist), inker.
Blond, colourist.
Loughridge, Lee, colourist.
Leigh, Rob, letterer.
Wands, Steve, letterer.
Morey, Tomeu, colourist, artist.
hoopla digital.
More Formats
Electronic resource.
Digital content provided by hoopla.
Mode of access: World Wide Web.

Additional Notes