Richland Library Main
A Conversation with Bakari and Cleveland Sellers
Tuesday, June 28, 2022 6 p.m. – 7 p.m.
Due to unforeseen circumstances, Cleveland Sellers will not be able to attend tonight's discussion. Bakari Sellers will instead discuss race, activism, and justice with Richland Library's Chief Equity and Engagement Officer, Tamara King.
---
Don't miss a father and son's conversation about race, activism and justice featuring Bakari and Cleveland Sellers.
"Bakari Sellers made history in 2006 when, at just 22 years old, he defeated a 26-year incumbent State Representative to become the youngest member of the South Carolina state legislature and the youngest African American elected official in the nation.
In 2014 Sellers won the Democratic nomination for Lt. Governor and is widely considered to be a rising star within the Democratic Party and leading voice for his generation.
Sellers earned his undergraduate degree from Morehouse College, where he served as student body president, and his law degree from the University of South Carolina. He has followed in the footsteps of his father, civil rights leader Dr. Cleveland Sellers, in his tireless commitment to public service while championing progressive policies to address issues ranging from education and poverty to preventing domestic violence and childhood obesity.
Sellers practices law with the Strom Law Firm, LLC in Columbia, SC.
Sellers is a CNN contributor and the author of My Vanishing Country and Who Are Your People?  He is married to Dr. Ellen Rucker-Sellers and is father to twins Sadie and Stokely." Find a complete biography of Representative Sellers here.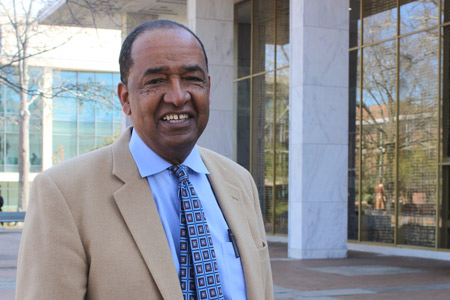 "Cleveland "Cleve" Sellers Jr. was born in Denmark, South Carolina, to Cleveland Sellers (Sr.) and Pauline Sellers.  He attended Voorhees from ninth through 12th grades, graduating in 1962. The murder of Emmett Till when Sellers shook him deeply. Between the death of Till and a week-long summer retreat with church leaders who discussed racial inequalities in America, Sellers was mobilized about civil rights. Also propelled by the Greensboro sit-ins, Sellers organized a sit-in protest at a Denmark, South Carolina lunch counter. At the age of 15, he was active for the first time with the American Civil Rights Movement.
In 1962 Sellers enrolled in Howard University. After the 1960 protest, Sellers' father had forbidden his son's jeopardizing himself by becoming an activist. Nevertheless, Sellers became involved with the Nonviolent Action Group (NAG) where he met Stokely Carmichael. In 1964, Sellers became involved with the Student Non-Violent Coordinating Committee (SNCC).
He was assigned to Holly Springs, Mississippi, to coordinate voting registration and advocate for the Mississippi Freedom Democratic Party. He and his colleagues were met with intense racism while in Mississippi. When they returned home, they felt beat down and as though nothing had been accomplished. So, when Sellers was elected program director of the SNCC the next year, he took action to revise the goals of the organization. Sellers thought the philosophical tactics of the SNCC weren't working, and he instead wanted to implement extremely focused and achievable goals for the group. He believed it to be the best way to make a change. Sellers refused to be drafted into the U.S. military as a protest against the Vietnam War. The leadership of SNCC thought that the Johnson Administration was trying to silence SNCC by drafting its leadership. Sellers graduated from Shaw University in 1967. After graduation, he returned to South Carolina, drained from the SNCC.
He was the only person convicted and jailed for events at the Orangeburg Massacre, a 1968 civil rights protest in which three students were killed by state troopers. After his release from prison, Sellers earned a master's degree in education from Harvard University in 1970. He ran unsuccessfully for office in Greensboro, North Carolina while aiding the 1984 presidential campaign of Reverend Jesse Jackson. Sellers earned his Ed.D. in History at the University of North Carolina at Greensboro in 1987. He was director of the African American Studies Program at the University of South Carolina. His scholarly interests include recording the history of protest tradition, civil rights history, and the experiences of Africans in the Diaspora.
Sellers has two sons and a daughter. His youngest son is former South Carolina state Rep. Bakari T. Sellers (born September 18, 1984). In 1989, Seller's parents were aging, and he and his family moved back to Denmark, South Carolina, to be with them. In 2008, Sellers was selected the 8th president of Voorhees College, where he had graduated from high school.  He is the author of The River of No Return:  The Autobiography of a Black Militant and the Life and Death of SNCC and the subject of the biography by Adam Parker, Outside Agitator:  The Civil Rights Struggle of Cleveland Sellers, Jr."  Find a complete biography of Mr. Sellers at the African American Registry.  
This Let's Talk Race program is made possible thanks to Richland County Hospitality Tax Funds and funding from the Dominion Energy Charitable Foundation.
Add to Calendar
2022-06-28 18:00:00
2022-06-28 19:00:00
A Conversation with Bakari and Cleveland Sellers
Don't miss a father and son's conversation about race, activism and justice featuring Bakari and Cleveland Sellers.
Richland Library Main
Richland Library
no-reply@richlandlibrary.com
America/New_York
public