Melissa S.
Saturday, September 03, 2022
Native plants are critical parts of our local ecosystems. The birds, insects, and mammals that live here evolved in tandem with the various trees, flowers, and grasses that also flourish in our area. We can't have one without the others. 
With this series, I hope to spotlight some of the plants that can be found around Richland Library Ballentine so that the next time you take a walk in the woods, you can identify more of what you see!
 
Can you spot the flowers in this picture?  
You'd be entirely forgiven for not spotting them right away or even at all! They blend in so perfectly with their environment. Here's a closer photo of the flowers: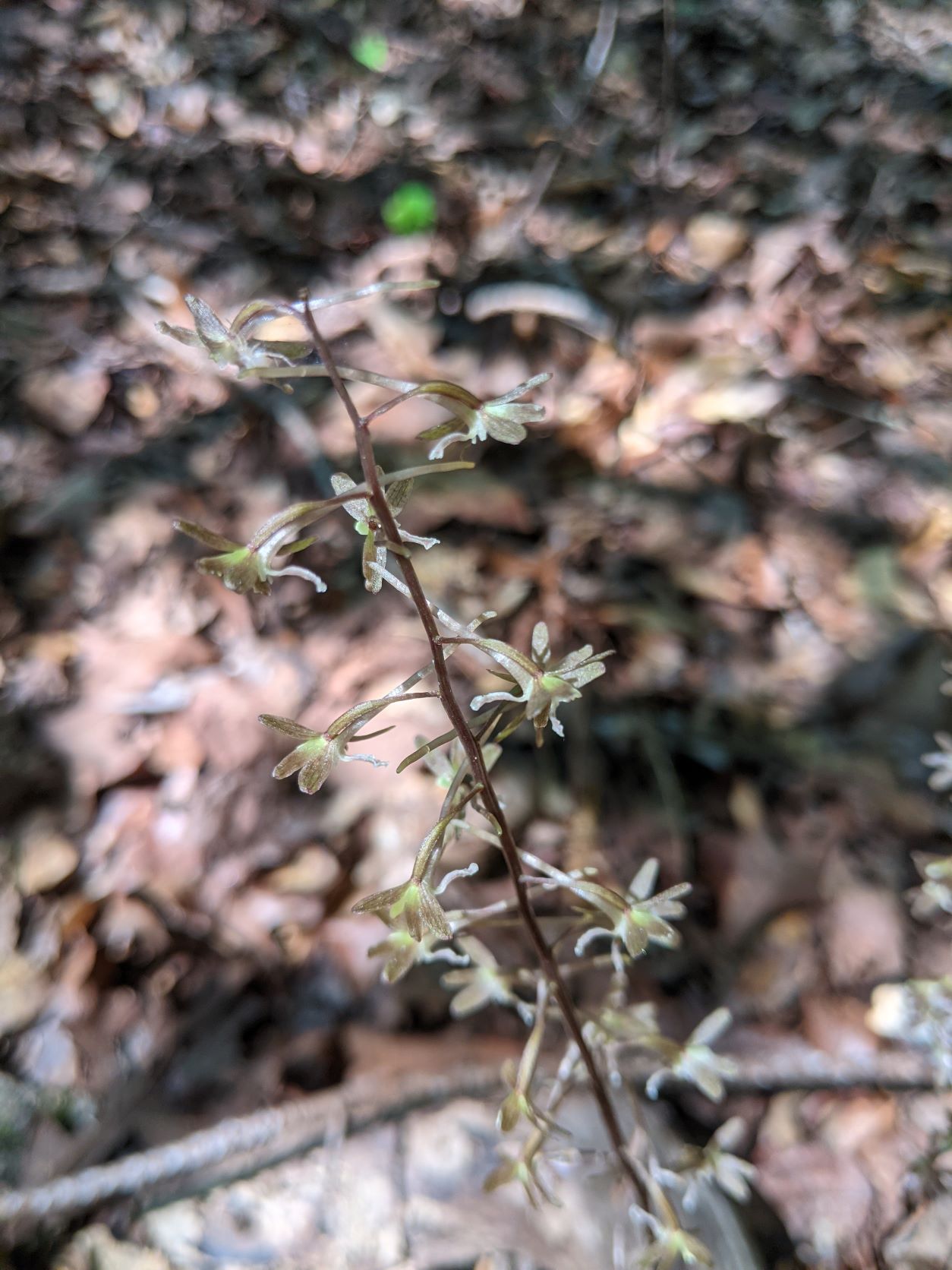 The Crane-Fly Orchid, Tipularia discolor, is not an endangered species in the Southeastern US. It's not particularly common, though, and it was definitely a treat to find a small stand of them at Ballentine. 
As shown in the pictures above, it's not an orchid with huge, showy, colorful blooms like the ones you often see for sale in grocery stores or at garden centers. Those species of orchids are generally from the tropics or are bred in greenhouses (like our local world-renowned orchid growers, Carter and Holmes) for their spectacular blooms.
The Crane-Fly Orchid has tiny greenish blossoms along a leafless stalk. They grow in shady spots in the woods that are a little damp and are often found on or near rotting wood. 
They bloom around September-August and the seed pods are usually mature by mid-October. Oddly, this plant's leaves don't show up until after it's done blooming. Around the time the seed pods mature, individual leaves - usually green (sometimes with purple spots) on the top with a beautiful purple underside - will emerge from the forest floor. The leaves will last the winter and die before the new stalks emerge in the late summer/early fall. 
Orchid seeds tend to be tiny, and the Crane-Fly Orchid is no exception. When you break open a ripe seed pod, you will find what looks like a pile of dust. 
Unfortunately, growing orchids from seed is incredibly difficult. Orchid seeds are so small because they don't have any nutrient storage packed into the seeds. Instead, each orchid seed in the wild finds a fungus it likes and they grow in tandem: the fungus breaks down complex sugars into the nutrients the seeds can use to grow into new orchids. If you did decide to germinate these seeds, you would need to work in sterile conditions, using a flask filled with a substance called agar that is filled with nutrients and growth hormones. You would also need a lot of patience: the first leaves would take months to develop and you likely wouldn't see the first flower for several years.