Our staff, boards and volunteers are the lifeblood of the library—continuously flowing from one customer and project to another, all while maintaining professional excellence and outstanding customer service.
Board of Trustees
Our Board of Trustees oversees and guides the long-term strategies for the ongoing success of Richland Library. They embrace our commitment to enhancing our communities through their time, their insight and their dedication. 
Executive Leadership Team   
Dedicated to advancing and enhancing our communities, the library's Executive Leadership Team is committed to inspiring lifelong learning and providing access to information and resources for all.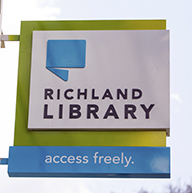 The Richland Library Friends and Foundation Board
The Friends and Foundation Board leads a team of ardent library supporters as they work to enhance the mission of the library by raising awareness and financial support through donations. 
---
Work With Us
Our diverse staff of nearly 400 unique employees embrace and value our inclusive culture. From librarians and career coaches to social workers and community thought leaders, our employees are both workplace ambassadors and community champions!