Margaret D.
Wednesday, November 09, 2022
In the early 1940s, the United States War Department found itself in desperate need for air training facilities for military pilots. War was raging in Europe and aircraft were playing a vital role in both offensive and defensive military strategy. How would America be ready if they were dragged into the war in Europe?
With pressure mounting, Congress established the Army Air Forces in 1941. That same year, the War Department acquired the Lexington County Airport, a small airstrip which city and county officials had recently begun to construct for airmail and commercial flights. There the War Department established the Columbia Army Air Base. Army and civilian engineers improved this site with runways, hangars, barracks, a church, officer's quarters, and other facilities necessary for training and housing Army airmen. Airmen were soon stationed there and trained in aerial photography, air combat, aircraft maintenance, and, most importantly, to pilot bombers.
Airmen who trained at the Columbia Army Air Base (CAAB) flew on bombing missions at warfronts across the globe. One of those airmen stationed at the CAAB was William Hamson, who served as base photographer from 1942 to 1945, and, in 2013, generously donated a collection of over 180 photographs taken at the base to Richland Library. This collection can be viewed in the Local History Digital Collections at this link. 
William Hamson at Columbia Army Air Base, 1942. 
In February 1942, after the bombing of Pearl Harbor, a secret air retaliation mission was launched under the command of Jimmy Doolittle. Doolittle's Raiders began their training at the Columbia Army Air Base before being moved to Eglin Airfield in Florida, which had greater security. From Eglin the Raiders headed off for their daring mission to bomb Tokyo, becoming the first successful air attack of the United States during the war. In 1997, Richland Library conducted an oral history interview with local former Doolittle Raider Horace "Sally" Crouch, which you can hear or read online here.
Army airmen continued to train at the Columbia Army Air Base throughout the war. The CAAB had practice bombing ranges at nearby Lake Murray and Pontiac as well as Poorman's, located north of Charleston, S.C. A historic marker at the site lists the names of 230 aviators who died during training at CAAB from 1941-1945.
When the war ended, the air base was sold back to Lexington County. In 1947, Delta flew the first commercial flight from Lexington County Airport, as it was then called. The site of the old air base is now the Columbia Metropolitan Airport.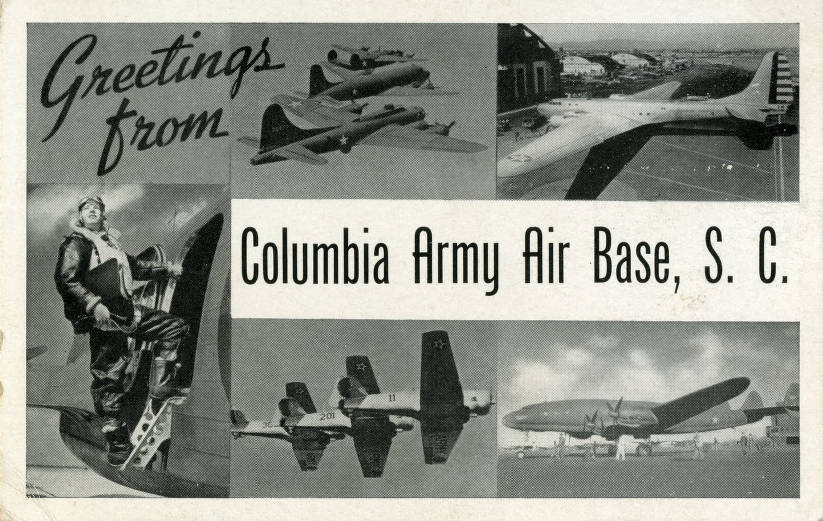 Next time you fly out of CAE, take a moment to think of the brave pilots, crew, and others who served their country during war time from that airstrip. We owe them our remembrance and gratitude.
Want to learn more about the Columbia Army Air Base? Check out the resources below.