Let's Get Crafty: Needlework
Jennifer N.
Thursday, March 19
Got a little extra time on your hands? Well let's get craftin' and keep those hands busy!
Today is the perfect day for you to finally do it.  To learn… to knit!  Or crochet, or cross-stitch, or try out some other needlework skills. Richland Library cardholders have access to Creativebug, with more than 1,000 arts and crafts video tutorials. Here are a few that would be great to try today:
Beginner Crochet
You're only 6 videos away from learning this timeless technique.  You'll never want for hats or scarves again!
---
How to Knit and Knitting Tools and Materials
All you need to knit are needles and yarn. But.. what kind of needle?  What kind of yarn?  And what do I do once I have them?  We've got all you answers covered!  You'll learn to cast on, bind off, and how to read a knitting pattern.
Watch How to Knit ➡️ | Watch Knitting Tools ➡️
---
Free-form Needlepoint Sampler
Tent stitch, byzantine stitch, leaf stitch, wicker stitch, Milanese pinwheel, and diamond eyelet stitch.  These sound intimidating now, but you're only a few videos away from conquering them all and creating a fabulous sampler.
---
Marbled Embroidery
Learn satin stitch and how to use an embroidery hoop (stitching all the way to the edges!) while creating a cool, modern marbled design.  
---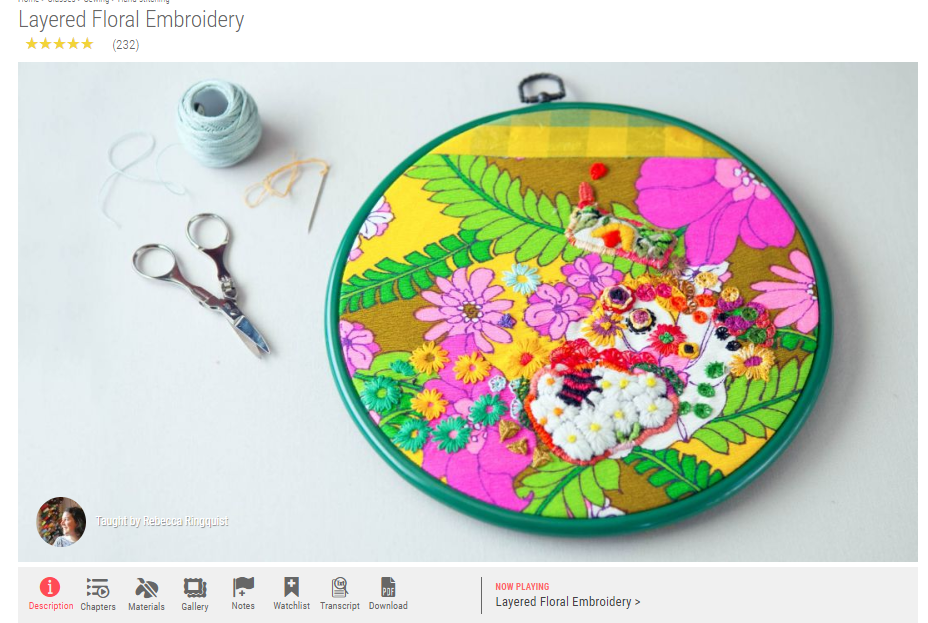 Layered Floral Embroidery
I love this project because the base material is so simple- just some fabric remnants or other old material (a shirt, a tablecloth… anything with a great pattern).  What a fun, sustainable way to re-purpose a favorite print!
---
Stitched Rose Embellishment
Another fun and unexpected use of needlework – this time we're cross-stitching a rose onto a shirt using a 'waste canvas.'  Once you've mastered this simple technique, you'll be able to add cross-stitch embellishments to just about anything.
---
Daily Embroidery Challenge: Stitch-a-Day Sampler
Starting with the basics and moving toward the more advanced, get ready to tackle a 31 day challenge with 31 stitches!  You'll learn outline stitches, filling stitches, and how to create textural effects.
Looking for more?  Check out the entire Creativebug catalog for FREE with your Richland Library card.  Happy stitching!